Study Reveals Good News in the Quest to Treat Aggressive Brain Tumors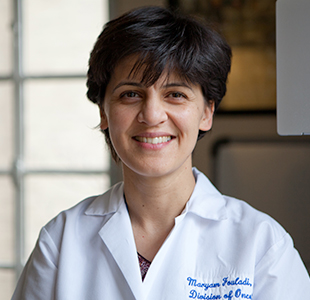 You don't often see the words "good news" and "aggressive brain tumors" in the same headline. But there is no other way to describe the findings of a recent study that tested the effectiveness of a small molecule compound on mouse models of diffuse intrinsic pontine glioma (DIPG).
The study used 6-thio-2'deoxyguanosine (6-thio-dG) to induce damage to telomeres. Telomeres are repeated sequences of DNA at the ends of chromosomes that prevent or minimize genetic instability in cells. As cells age, telomeres normally shorten, and genetic instability helps kill off the aging cells. But in DIPG, high-grade glioma and high-risk medulloblastoma, the enzyme telomerase maintains telomere length on brain cancer cells, thereby conferring unlimited replicative potential.
6-thio-dG is manufactured to be like a similar, naturally occurring ingredient in telomeres, and is already being tested in preclinical research on lung cancer at another institution. The study showed that after injection into humanized mouse models of DIPG, 6-thio-dG crossed the brain-blood barrier—a significant advancement that eliminates a major hurdle to treating brain cancers with drugs. Then it was incorporated in cancer cell chromosomes, causing telomerase-dependent telomere damage. The therapy did not affect non-cancerous cells in the animals, and the therapeutic benefits of 6-thio-dG continued in the animals after treatment ended. Results from the study appeared in Molecular Cancer Therapeutics (July 2018).
"About 90% of all solid tumor cancers are telomerase positive, so this therapy may have the potential to treat many other types of cancer," says Rachid Drissi, PhD, the study's principal investigator. "We are testing it in aggressive brain cancers first, since there is such an urgent need for treatment. Our team hopes to begin clinical trials in the near future, after we confirm the compound's safety."
Drissi is one of several investigators at Cincinnati Children's studying rare, untreatable brain cancers. The medical center is home to the International DIPG Registry, established in 2012 under the direction of Maryam Fouladi, MD, an expert pediatric neuro-oncologist and medical director of Cincinnati Children's Brain Tumor Center. Last year, Fouladi co-authored a study with researchers from around the world that focused on the clinical, radiologic, pathologic and molecular characteristics of long-term survivors of DIPG. It was published in the Journal of Clinical Oncology (May 10, 2018).